Where to Sweat Now: 15 Trending Studios for Summer '19
Summer's here and we've already seen some scorching temps! While those beams are great for that sunkissed glow, they're not so great for extended periods of outdoor exercising. To make sure you can work on those gainz without worrying about overheating, we've lined up some trending fitness studios this summer 2019.
Whether your jam is the most intense HIIT class, adding tech to your fitness, or exploring the wild world of adventure sports, we've got a studio for you to try on this list. Now, sit back and enjoy this list with some background music. Alexa, play Will Smith's Summertime.
For the Power Packer: BoomBox
Do you even lift, bro? If you're looking to make some serious muscle gainz this season, we know just the spot. The BoomBox in the Castro of SF has a class called "the buff" and it's all about old school weight lifting. No cardio. No fuss. No Just you and your reps — and an instructor who knows their sh*t walking around correcting your form. Plus, true to retro form, you'll get an index card and a pencil (yes, an actual No. 2 pencil #Whatarethose) so you can write down the exercises you did, the reps and corresponding weight. It's a one-of-a-kind class that's perfect for that summertime fine chisel.
The BoomBox | Castro: 2109 Market St, San Francisco | 415. 622.8721 | Boomboxstudio.com
For the HIIT Addict: Tribe SF
The hotspot for HIIT classes right now is Tribe SF in North Beach. This studio offers small class sizes that get you in and out in 40 minutes, but feeling like you've just had a two hour sweat session. Classes offered include Tribe Fit HIIT, Rowing, 4x4 Strength & Conditioning and the popular Tribe Fit Flow, combining 20 minutes of HIIT with 20 minutes of yoga. Also offered: semi-private and private training as well as yoga classes. One thing to note: Getting into the building is a little bit like entering the bat cave, but once inside, you'll feel like part of a secret society of butt-kicking HIIT fanatics.
Tribe SF | North Beach: 222 Columbus Avenue | 415.966.1319 | tribefitsf.com
For the Cross-Fit Enthusiast: Project 13
Though not a CrossFit-affiliate gym, Project 13 gives off the same vibes that working out in a "box"does — complete with rowers, ski ergs, and squat racks everywhere. They specialize in well-programmed strength training that changes daily. They value the importance of proper movement through dynamic warm-ups and injury prevention, as well as community-building through happy hours and member events. If you want that community feel with tough but functionally-focused workouts, Project 13 is the place to be.
Project 13 | Nob Hill: 1440 Bush Street | 612.432.1696 | project13gyms.com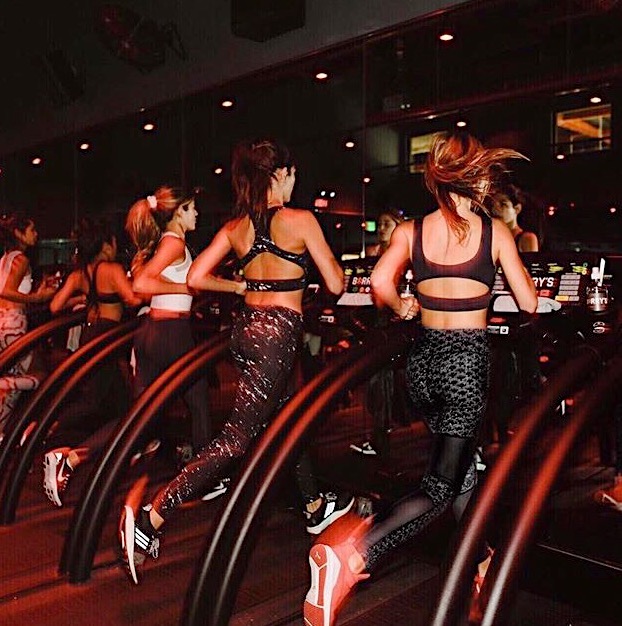 For the All American Athlete: Barry's Bootcamp
Classes at Barry's are half treadmill, half weight training, 100 percent badass workout, Barry's Bootcamp is a staple in the boutique fitness world. As soon as you step in the red room, there's no doubt you're going to get a killer workout in. There's six Bay Area locations to choose from (Soma, FiDi, Castro, Marina, Burlingame, Palo Alto) and one more on the way coming soon to San Jose. They don't call this the "best workout in the world" for nothin'!
Barry's Bootcamp | Barrysbootcamp.com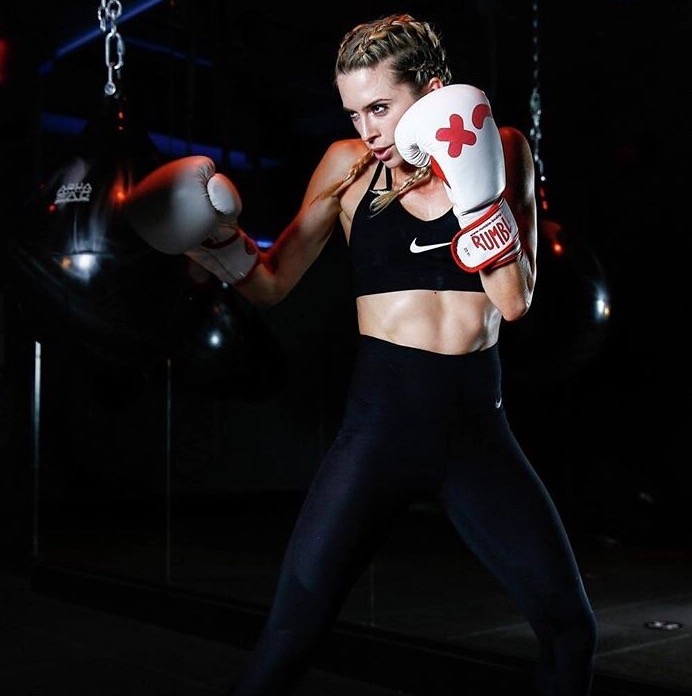 For the Bougie Boxer: Rumble
At just shy of a year old in the Bay, Rumble has already created quite a stir here in the Bay — and after just one class, you'll know why. Class is structured so that half of the class you're throwing punches on the aqua bag and for the other half you're lifting weights. These sets alternate a few times throughout class, and by the end of it you're a sore, sweaty mess (in the best way, of course). This studio also has fancy handwraps for purchase; gloves for rent; and some fantastic locker room amenities. Plus, it's one of the most gram worthy studios in town. So, take a class and make sure to get a post class selfie with Biggie and Amy Winehouse. Yes, we're serious.
Rumble: FIDI: 180 Sansome St Suite 100, San Francisco | 212.804.7918 | Rumble-boxing.com
For the Classic Boxer: Hit Fit SF
Hit Fit isn't a newcomer to the San Francisco fitness scene, having opened in 2014. But with the rising trend of boxing from Rumble's FiDi opening, and the list of supermodels who train in boxing regularly, there's no better time to try out a class. And there's no better place than Hit Fit, who's instructor list includes pro boxers and some of the best trainers in the city. If you're looking to ease in, they offer beginner-level classes and provide all of the necessary equipment. Their Mission and Nob Hill locations are not intimidating, and they also specialize in TRX/HIIT classes as well as their well-known "Morning Quickie" for those pressed for time in the AM.
Hit Fit SF | Nob Hill: 1150 Sutter Street, San Francisco | 415.440.8269 | hitfitsf.com
For the Cardio Crusher: X-Core Piedmont
If you're wondering why we have a studio known for high intensity pilates as our cardio trend, it's a fair question to ask. Here's the answer: While X-Core may have started off doing reformer like pilates, but it has expanded to adding the Versaclimber to its list of classes. And the Versaclimber is a serious cardio workout. It's a 30-minute beat based classes that will have you dripping sweat in the first 10 minutes. You're standing and "climbing" to music (X-Core instructors always play the best music) using resistance. Sound hard to imagine? You kind of have to see it to really get it. So, what are you waiting for? Try it out.
XCore Piedmont | 4435 Piedmont Ave, Oakland | 510.214.2492 | xcorestudio.com/piedmont-ave
For the Traveling Yogi: CorePower Yoga
We all know CorePower and while it might not have the same vibes as your favorite neighborhood yoga studio, CorePower is super convenient to join because they have so many locations. Just how many? Over 200 studios across 24 states, with over 20 studios in the Bay Area alone and new openings seemingly monthly. For those who travel frequently or are looking for consistent classes pretty much anywhere in the Bay Area, CorePower is the best. Popular classes include Yoga Sculpt, which implements strength training, or Hot Power Fusion which involves a hot room and added humidity.
CorePower Yoga | www.corepoweryoga.com
For the Try-It-All Yogi: YogaSource
YogaSource has two locations: one in Los Gatos and one in Palo Alto. Offering over 130 classes a week in yoga, pilates and spin and operating for almost 20 years, YogaSource Los Gatos might just be the largest and most awarded yoga studio in the Bay Area. The Palo Alto studio offers 65 classes per week in comparison. What we love about YogaSource is the wide variety of yoga, making this a yogi's dream studio. There is meditation, gentle yoga options, flow options, hot options and special offerings like yoga for kids, prenatal yoga and workshops. They also offer teacher training programs ranging from 200 to 1000 hours.
YogaSource | 650.328.YOGA | yogasource.com
For the Tech Trendsetter: Black Box VR
Black Box VR is the first fully immersive fitness VR gym experience. We've tried it here at the Sweat Report and have to say, it's a super cool experience! You get a private "black box" room where you get strapped in with your VR headset and straps. The experience plays like a game where you have to perform movements with their patented resistance cable system to defeat "bad guys," boost up and gain upgrades. The entire workout takes about 30 minutes and offers a full-body workout customized to your level of strength. Even if high tech gadgets aren't your thing, you've got to try this at least once.
Black Box VR | SOMA: 1390 Market Street, San Francisco | 415-657-2242| blackbox-vr.com/sf/
For the Pilates Perfectionist: Move With
Move With is a studio in the East Bay city of El Cerrito, and while it's small, when it comes to pilates, it's mighty. The instructors here don't mess around — classes are all about form, movement, and upping your knowledge of your body and proper pilates technique. Move With offers a variety of pilates classes: springbarre, multiple levels for reformer classes, foundations classes, restorative classes and fascial stretch therapy (which is a must try!).
Move With | 11100 San Pablo Ave, El Cerrito | 510.232.4885 | Movewith.studio
For the Lagree Lover: Transform Fitness
Right smack in the middle of Mountain View you'll find the high intensity, low impact Lagree Studio, Transform. In 40-minutes you'll sweat, pulse, and shake your way to a stronger body with little to no impact on your joint. Talk about a win! Plus, this studio is now rockin' the new M3K megaformers, and it has updated handle bars, wide foot pad, more cut outs and rails, quick release spring system, and smoother carriage wheels.
Transform Fitness | 319 Castro Street, Mountain View | 650.584.3465 | transformfitnessmv.com
For the Sass-lete: Confidance
We're big fans of dance fitness here at the Sweat Report, and one studio Confidance is up there as one of our very favorites in the Bay Area. This studio offers a variety of dance classes — we're talkin' heels, reggae, chair dancing, twerk classes, and diva power move classes. But our all time favorite class is the Don't Worry Be Yonce class offered on Saturdays. It starts with a catwalk where classgoers can strut their stuff to cheering classmates before learning a routine taught to a Beyonce song. It's fun and it's empowering, and we highly recommend it.
Confidance | The Mission: 1458 San Bruno Ave, San Francisco | 405.921.0136
For the Ninja Warrior: Apex Movement NorCal
If you've ever been curious about whether or not you can do some of the moves you see on American Ninja Warrior, then Apex Movement NorCal is for you! They offer classes in both ninja warrior and parkour movements for both kids and adults, and it's all about having fun, and getting active. Located in Concord, they have a huge space filled with the same obstacles you've seen on your favorite TV show. In addition to classes, they offer open gym hours where you can run around trying out all of the obstacles as well. If you're looking for something new or a fun way to spend a Sunday afternoon, Apex Movement is the move.
Apex Movement | Concord: 930 Detroit Ave. | 925.692.1154 | apexmovementnorcal.com
For the Adventure Athlete: Touchstone Climbing Gyms
It's no surprise that indoor rock climbing has become a popular fitness trend. It's a fun AF full body workout targeting legs, arms, core and back. Plus, getting to the top of the rock is just as mental as it is physical. We totally get why more and more fitness enthusiasts are adding it to their fitness repertoire, and Touchstone Climbing is atop the list of climbing gyms to try. It's premier location Mission Cliffs has been an SF staple since '94, and they continue to dominate the Bay Area climbing scene with12 other locations across Northern and Southern California — and a couple new ones opening soon. And the best part is a membership at one location gives you access to all the gyms in their network. Talk about value! Go see what all the hype is about and expect to have a blast while getting in a killer workout.
Touchstone Climbing Gyms | Touchstoneclimbing.com
Now that you've got your list of the top trending studios to try this summer, what are you waiting for? Get out there, try something new, familiar or terrifying and let us know how it goes!