Best Hikes in Marin County
If there's one thing Bay Area peeps love, it's getting outdoors to explore nature. How could we not? We've got coastal views, Redwood trees, and golden bridges.
One specific local area of the Bay that shines bright in the hiking department is Marin County. With ocean views, mountain summits, wildflowers and dog friendly trails, there's a trail for every type of hiker. Here's a quick peek at some of our favorites — from easy peasy to hikes that'll give you a serious workout.

Easy breezy trails
Muir Woods National Monument
Approx. 6 miles, with options for shorter hikes
This trail is part of the Golden Gate National Park and is one of the most popular for locals and visitors alike — and well worth the experience. It has stunning views of old-growth redwoods (the tallest living things in the word) and asphalted trails. Choose between a half hour loop, 1-hour loop, 1.5-hour loop, or extend your hike into the surrounding Mt. Tamalpais State Park. This hike is great for kids, but not so much for pets — no animals, bicycles, or smoking on this route. For more info.
Tennessee Valley Trail Loop
Approx. 3 miles.
This loop is a great family-friendly trail with low elevation gain. This trail opens a clear plain to the ocean through the scrub and grasses with beautiful coastal views in a short, relatively flat hike. In the rainy season, it can get flooded, but in spring you'll see tons of wildflowers. Overall the loop is a fun, breezy walk through scrub and grass to the beautiful Pacific. This trail is open to hikers, bikers, and equestrians, but unfortunately, no furry friends. Pups aren't allowed. More info here
Approx. 2 miles.
Baltimore Canyon loop is a 2-mile hike that gives nature lovers stunning views of the Bay with a leisurely stroll outdoors. If you get out on the trail and decide you want more of a challenge, you can add on to your hike by completing the Dawns Falls loop, which adds a little elevation with a side of fantastic views of the waterfall. One thing to note is that it gets quite exposed in the summer, so don't forget the sunscreen. All trails are dog friendly. More info here.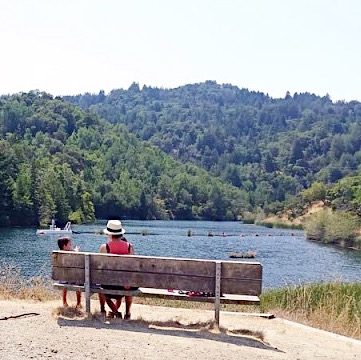 Approx 2.7 mi.
This family-friendly trail sits right at the base of Mt. Tam near the town of Ross. It's a nice trail walk around the lake with very small slopes and is mostly covered by trees, making it a great option for those with little ones. If you're looking for a challenge, there's tons of trails nearby perfect for the more advanced hiker. Because this is a popular spot, parking can get crowded. Either arrive early or be prepared to park in the neighborhoods nearby. On-leash dogs allowed. For more info, check this link.
Tennessee Valley to Muir Beach Overlook
Approx. 5.5 miles
This trail is one of the most beautiful and enjoyable hikes that the Marin Headlands has to offer. Featuring those picturesque coastal views from the blufftop Pirates Cove Trail, a descent into Muir Beach, and a stroll through the Green Gulch Farm and Zen Center. Dogs are allowed only on Muir Beach. Due to steep grades, this hike is not recommended for children. for info, check this link.
Marin Headlands via Rodeo Ave.
3+ miles.
There are so many options to hike in the Marin Headlands, but at The Sweat Report we like to begin at the lesser known spots. Parking at Rodeo Ave. (only accessible via 101 South) hike up the steep but short trail to Alta Trail. After admiring the views of the Bay take a right at the Alta Trail to hit the SCA Trail. Here is where you begin to get 360 views of the ocean, the Bay, Golden Gate Bridge and hills. We'd recommend going up to Slacker Hill to get secluded views of GGB. Next you'll hit the Coastal Trail to either go to Battery Spencer, Hawk Hill or do a full loop around the headlands. Dogs are allowed on some trails. For more information, check out this link.
Temelpa Trail to Mount Tamalpais Summit
4+ miles, 1500+ ft. elevation gain
Begin by parking on Panoramic Highway and take the entrance up. Multiple routes options with the Temelpa Trail being the most covered and steep, so get ready for your booty to burn. Don't forget to pack a lunch. Once you summit Mt. Tam, you'll want to stay a while to take in the view while chowing down on your brown bag meal. Pro tip: when you're coming down the Mt. Tam, try Fire Road access to make it easier on the knees. This trail isn't dog friendly, and would likely be a challenge for little ones. For more information check this link.
Tomales Bay and Point Trail
9+ miles, 1200 ft. elevation gain.
This is one of Point Reyes' best full day hikes, with stunning views of the Pacific and the sound of crashing waves to cheer you on during your hike. This hike really stuns when the sun's out, so definitely worth trying this trail on a sunny day. Yes, this hike is certainly beautiful, but here's the kicker: it's a long 9-ish miles through dirt and sand, making it quite the challenge. Pro tip: If you have time, stop by Tomales Bay Oyster Company to make a full day visit to Point Reyes. For more information, check this link.
7+ miles one way, 1700+ ft. elevation gain.
This hike is perhaps the most famous of all Marin hikes. Well known for the Double Dipsea Trail race, this is one hike that's not to miss — if you can handle a challenge. Beginning at the Dipsea stairs in Mill Valley, you'll ascend the 700 stair climb while reading motivating quotes on along the way. After you catch your breath at the top of the climb, veer left and look for the Dipsea trail signs. You'll move through neighborhoods and forests before you see your first glimpse of the coastal views. The trail then drops down into Muir Woods before taking the long fire road back up through Cardiac Hill up to the peak and you'll enjoy more coastal views on the way up. After that, it's all downhill to Stinson Beach through the mossy covered trees. At the end, you can either do the hike again to get back to where you started, or take Marin Transit Shuttle back (no judgement here!). Either way you choose to end it, the Dipsea Steep Ravine is an incredible trail for the view and for the workout.
No matter your hiking skill level, there's lots of hikes to pick from inMarin County. So pack a lunch, grab a water, put on some sunscreen and enjoy a trail that fits your mood.